A web design for reaching parents and professionals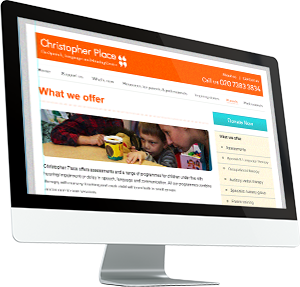 Christopher Place offers a unique combination of nursery education and therapy for under-5s experiencing difficulty with their hearing, speech, language and general communication skills. We'd already created a web design for Christopher Place several years ago and worked closely with them on their search engine optimisation. However, without a content management system (CMS) they relied solely on Zebedee to make updates and changes.
They were keen to attract new enquiries from both parents and professionals, as well as to appeal to potential new employees. With the content targeting separate audiences, the web design needed to be very intuitive and user-friendly. It was time for a new and engaging design, with lots of photography, bright colours and clear calls to action.
The website also needed to be nice and visible to the search engines. Our other missions were to boost donations through the JustGiving platform, encourage social media, keep the site up-to-date with news and inspiring stories, and make it easy to update.
Finally, we needed to be sure to meet the minimum legal accessibility requirements – something especially important for this particular audience.
Colourful, clear, consistent web design
Tech-speak alert: we installed and configured the open source CMS WordPress and web design for the front end HTML and CSS. This produced a fun and colourful web design. Our agency's team created a template driven web site built on W3C standards for HTML and CSS and META control for search engine optimisation. (Sorry about all the capitals – we're not shouting, honest).
We customised WordPress to create a unique look and feel that was just right for Christopher Place's brand identity, while providing clear prompts to contact and make a donation. The navigation is extremely intuitive and consistent throughout to provide a great user experience.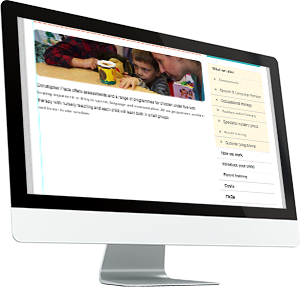 Clearer for parents, top of the class on Google
The new website is a fantastic resource for parents, offering clearly accessible information on how Christopher Place works and what it offers. Combined with FAQs, guidance on how to introduce a child and term dates, it enables a parent to make an informed decision about contacting Christopher Place – resulting in better-quality leads driven by the website. In addition, the new CMS means they can now add new content themselves instead of having to outsource it to us.
The site is also easily found on Google, ranking in top position for relevant keyword phrases such as 'speech language hearing centre' 'avt therapy' 'speech and language centre' 'london speech centre' and 'avt auditory verbal therapy'.
Please contact our get in touch with our web design agency to discuss your web design needs.
"...Every request is responded to in no time, and the skill and creativeness of the team are excellent and regularly remind us if we need anything updated..."