What is on-page SEO and how do you boost your page rankings?
Search Engine Optimization (SEO) is critical if you want your website to gain more visibility on search engines and generate more leads, traffic or conversions. On-page SEO is especially valuable for your website because it is relatively easy to do and gains quick results. Using my checklist below will help ensure that you take advantage of all opportunities to maximise your on-page SEO.
In my post, I'll give an explanation about on-page SEO and the changes you'll need to make to your website. Sometimes it's a matter of a few tweaks which can make all the difference, such as a small change to a heading or increasing the frequency of an exact keyword on your web page however if you check off the whole list, then you'll likely make a difference to your keyword ranking. So without further ado let's get started!
What is on-page SEO?
To give a simple explanation, on-page SEO means optimising individual web pages or blog posts for specific keywords or phrases. It's about making sure a specific keyword or phrase is integrated within the semantic structure of the page. The page content must be written specially about that keyword to help the end user's goal or question. It's a very focused, page-by-page approach which should increase your visibility on search engines.
Part of that integration means including the keyword phrase in the title and headings and linking to relevant pages within your posts.
On-page SEO is different from technical SEO which is more about optimising the overall website's technical architecture such as page speed, redirects, HTML/content ratio, general UX (user experience), and much more. But on-page SEO is generally something CMS editors have control of when editing or publishing a blog post or page.
An on-page SEO checklist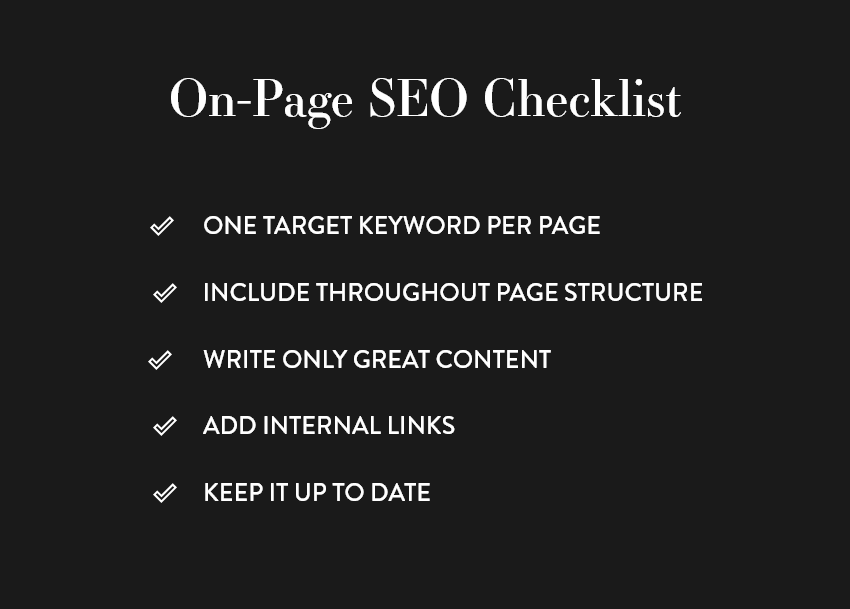 When you update your page or post for on-page SEO there are a number of changes to make, here is an easy checklist which I hope you will find useful for your on-page SEO.
First things first…
Select one target keyword or keyword phrase per page
This is important. You must start by defining the keyword phrase which is specific to your page, but first research the phrase – don't just guess it – and use tools to find out which keyword is best based on search volumes and difficulty. I use Google's Keyword Planner, which will provide variations and traffic volumes for specific target keywords and give variants to consider. The keyword must still be relevant to the topic of the page – in other words, your page content, and headings must be explicitly about your keyword. No point in trying to optimise for apples when your page is about pears! It's important to get this bit right because you don't want to put in all the time and effort only to change your keyword later and release you've optimised the wrong keyword. There are a few things to think about when selecting a target keyword:
Relevancy: Your chosen keyword should be relevant to the page content.
Search volumes: Pick a keyword or phrase which has high volumes of searches to drive substantial visitors to your website.
Competition: Try to choose keywords which have medium or low competition and aren't too high, otherwise you'll find it hard to rank on page one of Google. Although bear in mind the competition data given by the Google Keyword Planner is for ads competition rather than organic search competition. Ideally don't use the same keyword somewhere else on your website otherwise you might dilute or compete with your own content. Try to include a few secondary keyword phrases in your post or page.
Include the target keyword phrase throughout your page structure
Once you've defined your keyword or keyword phrase, insert it throughout the page structure; in page slug or URL, heading one, heading two's and three's and heading fours, fives if possible, and make sure you include it frequently within the paragraphs to achieve the best on-page SEO results (see what I've done here?). Insert the target keyword in the following areas:
The META title: Include the keyword phrase as close to the beginning of the title as possible and keep it to 50–60 characters in total. Otherwise, Google cuts off the characters on the SERPs.
The META description: Write a nicely worded description of your page and stick to 155-160 characters, again you MUST include your target keyword. The difficulty is to not over-use the keyword – it is hard to find the right balance between relevancy and spammy content.  Another great tool to help with this is the Yoast SEO plugin (for those of you who have a WordPress website) which will help you include the right density of keywords on your page. But make sure your content is legible. Yoast will also give a readability analysis and scans your text to provide helpful feedback to improve it and recommendations to make your content more digestible. For example, it will let you know if your pages are too long or if keyword frequency is too high or low. Yoast will also advise you to shorten your paragraphs to make the post easier to read. By the way, I'm not affiliated with Yoast in any way 😊
Only write great content

If you are going to do it, do it right. On-page SEO needs to consider the user so create well-written, useful, and relevant content. And write plenty of it – a few paragraphs in a post is a waste of your time. I aim for 2 to 3 A4 equivalent pages per post or web page and find this makes all the difference. Link to a valid external authority website if you can, which is relevant to your topic, as this will improve your on-page SEO but be careful not to link to a competitor! Where possible I recommend using lists and emphasis in the copy.
Optimise Images
Adding images will optimise your content because it makes it more engaging and digestible. But also remember users search Google Images often so it is worth increasing visibility here too. Make the following changes to images:
When you save your image file names, save a name that contains the target keyword. E.g. on page-seo.jpg
Make sure to add alternative (alt) text to an image – this can usually be saved on an image file within your CMS in the media area.
Add Internal Links
You can optimise your pages further by cross-linking to other pages of relevant content on your website. These links help increase user engagement and reduce drop-off.
These links help search engines crawl all your pages and in turn, will increase your visibility on search engines. Make sure you use anchor text that is relevant to the destination page's topic.
Keep your page content up to date
Some internal or external links may become out of date quite quickly and need removing or changing – make sure you have no broken links on the page otherwise this could send a negative ranking signal to Google. Again, it all comes down to usability – and if your site has broken links it is not deemed usable or of quality. Google wants to give users the most up-to-date, usable and relevant results for searches. Therefore, it's essential to revisit your older posts and eliminate outdated content. This process might involve looking for new sources and statistics, verifying the relevance of your claims, and looking for further updates in the topic fields.
The conclusion
On-page SEO is about optimising single pages or posts with one highly relevant and focused keyword or phrase. There are several changes required on a page to optimise it and having a checklist can help you methodically cover the process to get the best results.
It's important to choose your keyword phrase carefully and do some research before you start optimising your web pages.
Useful links:
https://moz.com/blog/category/on page-seo
https://www.searchenginejournal.com/on page-seo/essential-factors/
Free 1-hour consultation & technical report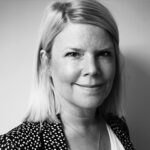 Please get in touch if you think you would benefit from a free 1-hour SEO consultation and technical audit.