Quick Set up guide for Google Analytics 4 (GA4)
The next generation of Google Analytics – Google Analytics 4 – is replacing Universal Analytics and your website needs to be ready! Standard Universal Analytics will stop tracking by July 1 2023, so you need to consider your next steps, in order not to get caught out.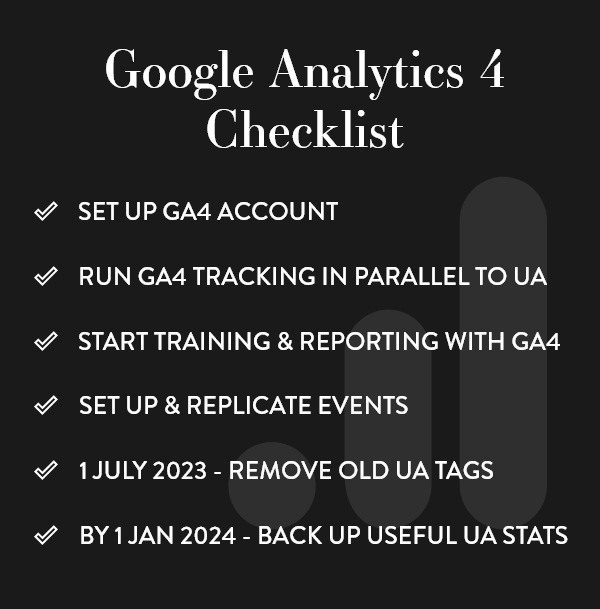 Although it might seem like a long way off, it's worth preparing for the changeover soon, so here's a quick guide on what to do:
Step one:
Configure and set up your Google Analytics 4 property now and start tracking in parallel with Universal Analytics. This will give you time to start learning how to use it and get yourself trained up.
Check out the latest post from Google here on how to prepare: https://lnkd.in/eyVi7JhS
Step two:
Familiarise yourself and start training and reporting with Google Analytics 4
Step three:
Back up useful historic stats from Universal Analytics which will no longer be available after 1 Jan 2024
Advertisers (Google Ads):
Link to Google Ads. Import conversions (for bidding), making sure to remove any Universal Analytics goals from conversion settings in Google Ads to avoid duplicate conversions.
Add Analytics audiences to a campaign or ad group (for remarketing).
Step four:
Migrate and recreate events in Google Analytics 4
Replicate filters
Key dates:
– Make sure you have removed your old Universal Analytics tags by 1 July 2023
– Back up your useful Universal Analytics stats by 1 January 2024
We'll be getting in touch soon with all our clients to set up Google Analytics 4.
If you have any queries don't hesitate to get in touch.