Creating an asset from
a digital experience
The design brief
Creating a good user experience with lots of content is a difficult balancing act. But if done right, it provides an essential shop window and a valuable marketing tool. Which is just what we did…
Canada Life Investments is a UK-based asset manager responsible for managing more than £33bn of equities, fixed income and property investment solutions. Their 45-strong team of investment professionals in the City of London partner with only the best agencies who they can trust to deliver their digital consultancy needs. Having worked with them for 8 years, we put forward the idea to redesign their website and together we embraced the challenge. Our mission was to transform a 'flat' and content-rich website into a streamlined, engaging user experience – without losing the content. We had to find a way to simplify a dated, text-heavy site, yet ensure content was still king and not let imagery take over.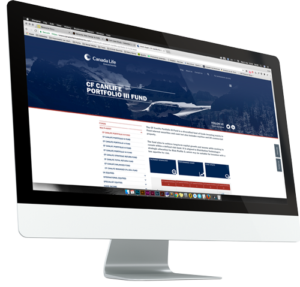 Investing in the right
design strategy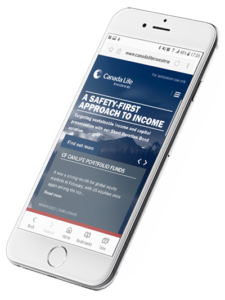 Mobile First
Asked to push the boundaries we did just that with a progressive design and a clean minimal theme. Keeping only the key information at the forefront of the design stopped it looking cluttered, busy or too wordy.
Exploiting a mobile-first approach to the design, we considered both the image and content needs of the user. This directed which elements were most important and determined the hierarchy of the page. The rest then followed.
We updated the brand colours and logo, making them sleeker and less corporate as the website needed to communicate a sophisticated message to high-net-worth individuals.
Long term results
with minimum risk
The results
It's now a website that engages, promoting news, insights and knowledge. Its improved messaging and engagement helps close the loop on their digital marketing.
We hit the nail on the head with the creative brief: the website now boasts an elevated digital brand identity with an enhanced user experience. Subscriptions and social following are now meeting the website's core objectives. Evocative, full-screen imagery and contemporary scrolling make Canada Life Investments stand out from their competitors, yet still remain accessible for the more traditional user.
Our ambitious website make-over initiated a whole brand identity refresh.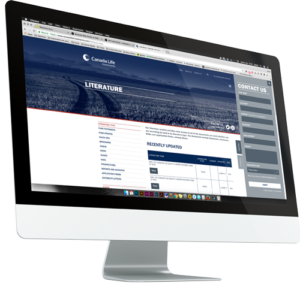 "...They have been an incredibly strong partner in the last ten years, providing digital solutions that help us stand out against our peers..."