Sharing a Live
Audio Stream
Share Radio is an internet radio station devoted to helping you through the money maze.
The station, which launched in early November 2014, broadcasts from studios in central London, seven days a week online via www.shareradio.co.uk and now has moved to a fully online service.
When they approached us, Share Radio urgently needed a mobile-friendly commercial website to be live within a 3-month deadline – with CMS, live streaming, member registration, programme listings, and a complex real-time synchronised schedule, complete with relational presenter information and sponsorship.
Working off-the-air
This all had to happen whilst their office space was being completely converted to make way for two brand new broadcasting studios. Suffice to say we had no live stream or broadcasting, nor presenters, and very limited data to work with.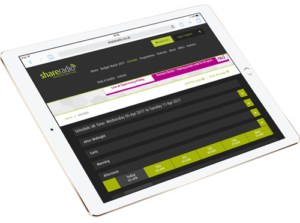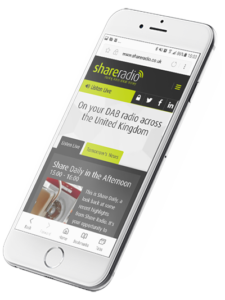 Confident and with the right experience to drive the success of an inspiring yet tough project, the team explored, extrapolated, confronted – and asked hard questions.
We had to gather and organise many areas of information – such as commercial and editorial objectives, airplay, scheduling and registration – and produce a highly interactive web design. It was a complex digital solution, but we ensured its success through due diligence, expert management and consultation, along with absolute passion and commitment for the accomplishment of the project.
While all this was happening we pressed on with the web design. With our creative team in collaboration, they developed the brand, logo and theme for Share Radio and translated this into a user-friendly and finance-orientated front-end concept.
Finally, we implemented the responsive (and impressive) Umbraco 7 as the open source CMS platform of choice. Why? Because it could be coded using MVC to provide a robust framework with a flexible API to share information across servers and devices in the most efficient way. Also, an extremely user-friendly interface means editors can concentrate on publishing great content without worrying about layout or styling issues.
See and Listen
For Yourself!
Listen now and see the results for yourself.
The new website shows a steady increase in the number of unique visitors, as well as repeat visits.
+1,443%
Increase in sessions since launch
+300%
Increase in listeners
382.23%
Increase in returning visitors
"...I would certainly use them again and look forward to enhance the functionality of the Share Radio website as we progress through phase 2 of our development..."