A college web design
that makes the grade
The National School of Government was part of the Cabinet Office that ran training, organisational development and consultancy courses for UK civil servants and private individual learners. When it closed in 2012, some of its teaching staff set up a new training organisation called The Civil Service College. They came to Zebedee for a new web site design that would increase lead generation, promote the organisation and encourage sales and bookings. The key would be good usability.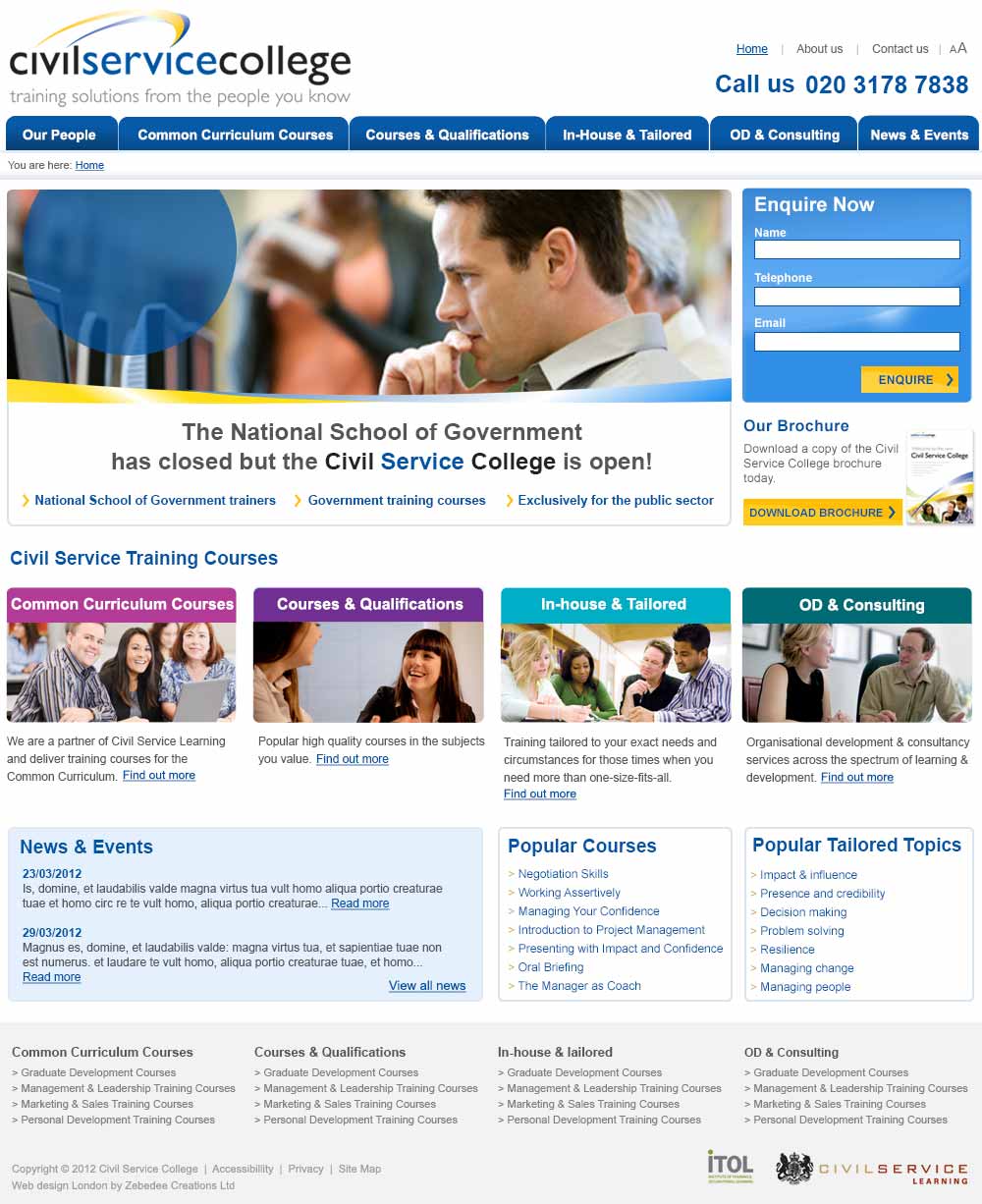 As always, we were zealous about pinning down the client's exact business goals because it's the only way to get the right results. So we met up several times to establish a clear brief on design, technical and art direction, from site architecture analysis to a functional specification document. We also made sure to nail down the project planning and content requirements, giving us a clear strategy for achieving the business goals through usability.
We designed a clear and quick user journey through to contact information, featuring a prominent telephone number with "Call us" prompt to action and a quick enquiry form with high contrast buttons on all key pages.
White space is good in web design , and we love big fonts for readability along with short sharp tag lines. It all makes it effortless for the reader to understand, which is important because web readers are fickle: you have just seconds to capture their interest. If you bore or confuse them, they're off like a whippet.
Navigation is also crucial to this. We created a drop-down navigation and threw in some in-page sub-navigation for good measure, making it concise and consistent throughout. A clear breadcrumb trail shows the reader where they are and helps them find their way around, while cross-links to related or popular courses are another helpful steer.
And the bonus is that all this is also great for search engine optimisation!
The Civil Service College web site has seen a 57% jump in unique visitor numbers. New visits have also gone up by almost 30%, while Google/organic visits have shot up by almost 65%.