Creating a clean, enhanced identity
We were delighted when boutique real estate investment company KOUT, commissioned Zebedee, as the creative web design agency in London, to create a new corporate visual identity reflecting their prestigious business.
Managing a portfolio of real estate and investment assets on behalf of high net worth international investors with a combined AuM over $300 million, it was imperative that we both matched and represented KOUT's voice and tone and that this was evident in their marketing collateral, including branded stationery and business card design alongside a new web design.
We knew that KOUT's new brand identity needed to present KOUT Capital to a UK audience as a trusted luxury brand and as a business brimming with lucrative opportunities.  To do this, we wanted to project KOUT's core values and expertise, in order to connect them more deeply with their clients.  It was our discovery and design process which enabled us to do this – we learned how they are strategically authentic and unique and in order to create a stronger brand, we simply built on this by incorporating their values into their brand.
It was important to present a consistent voice across all brand touchpoints – from business cards to iPhones – so we embraced the challenge of presenting the content in a beautiful Arabic version which unified their offering and provided a strong sense of resonance with some of their clients.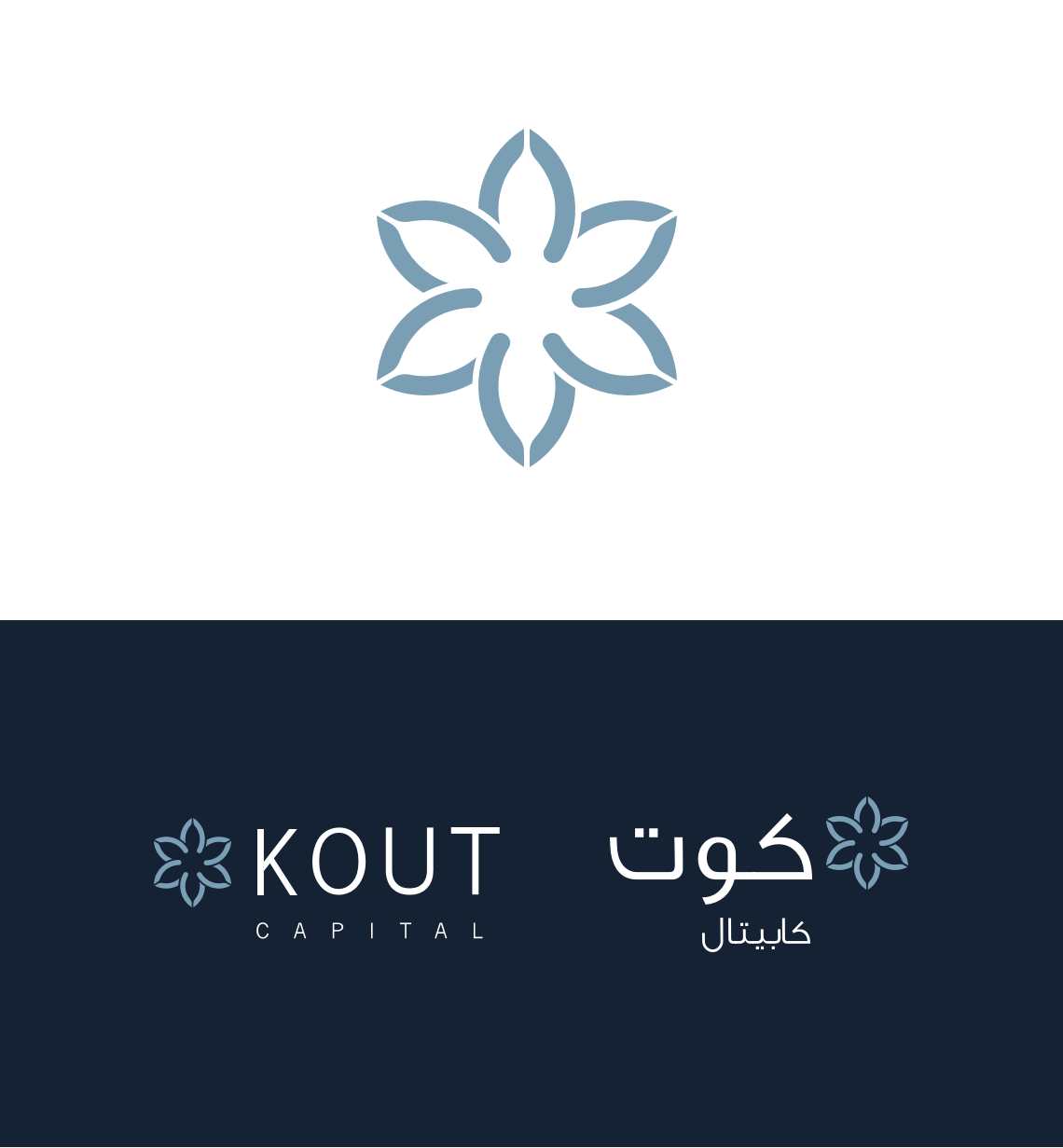 Creating a clean, enhanced modular WordPress website
Discovery & UX
Web design is foundational to bringing the whole online brand together and our web design discovery phase for KOUT began with our agency team carrying out research to uncover in-depth knowledge of KOUT's audience.  We did this by creating user stories and personas and by building the sitemap architecture along the way. This helped underpin our direction and to provide a seamless user experience which is intended to quickly convert visits to solid enquiries.
Prototyping
Prototyping was a crucial part of our UX design phase, where we created wireframes which allowed our designers and client to test and click though the core user journeys of the new website, provide feedback and make continuous iterations to improve the user journey, content and overall experience.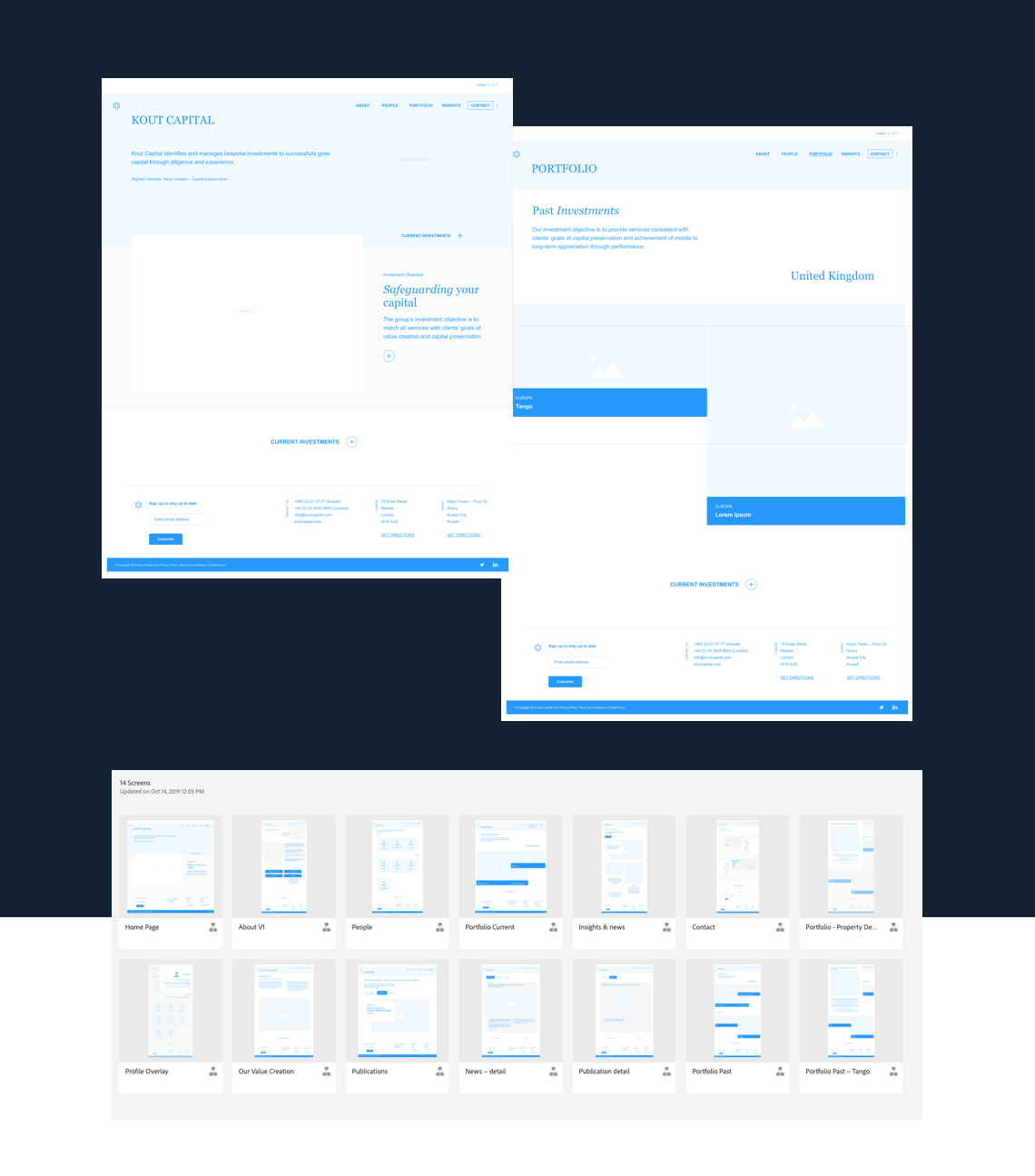 Drone Filmmaking
As a high-end brand, we wanted KOUT Capital to stand out from the competition and secured permissions for our qualified drone pilot to shoot aerial film footage of their flagship property in Cambridge. This resulted in a spectacular aerial video/show case for the home page and other marketing usage.  The benefits from drone technology are very clear and extremely cost effective; the footage adds a dynamic element for the visitor (helping to keep them on the page) and underlines that this is an authoritative brand with a trusted overview of the real estate and asset management business.
Photography
Our photographer was commissioned to shoot the properties to provide professional and up to date imagery for the web design and portfolio. We wanted strong images.
Web Design
In order to consolidate everything together – from brand identity, styles and sitemap to content – we designed a completely bespoke user interface design which is clean, modular and professional. The design embraces opacity layering and cards, icons and background layers all with a light and simple to use UI. And it reinforces KOUT's strong authoritative voice.
WordPress Development
This is where the magic happens! Our expert WordPress web developer brought it all to life during the web development phase, creating CSS animations and transitions for micro-interactions, customised on a responsive grid with full screen rendering. The WordPress blogging engine was configured for press releases, video and publications and plugins enabled for extended functionality. Our rigorous project management methodology, including testing and sign off ensured everything was pixel-perfect before launching the new website.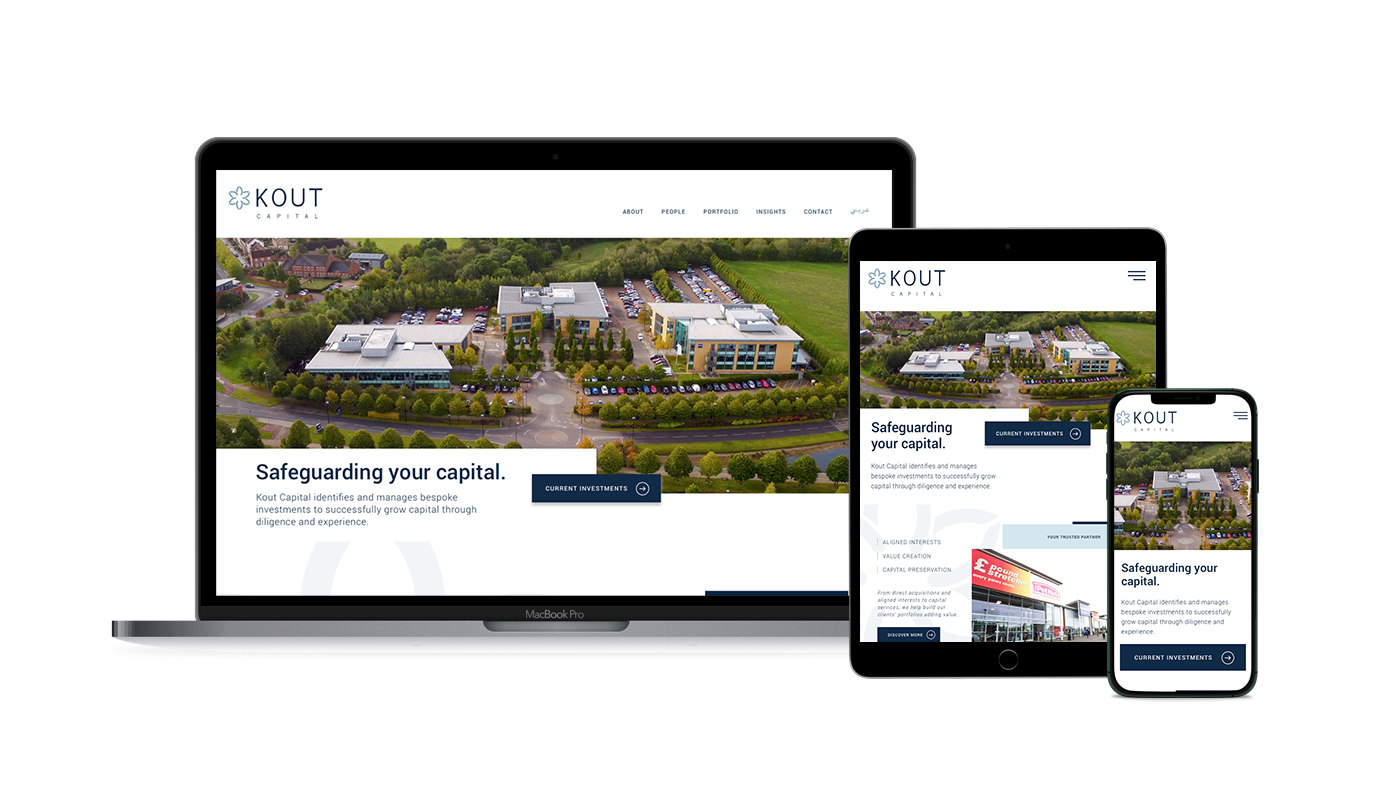 A web design
with clear results
Increased engagement
And last but not least, the newly designed KOUT capital website delivers increased page views driven by a professional UX led web design. This was achieved with an experienced team of web designers, whose passion for designing websites runs through their veins and the fact that they have worked for some of the world's biggest brands brought added value.
On time. On budget. Another happy client.
+88%
Increase in Avg. Time on Page 
+31%
Increase in page views
Experts in their field, Zebedee took the time to learn about our business and provided us with constant and effective communication in order to achieve the highest level of outcome for our project.