Accessible, anytime,
anywhere
CREATING A DYNAMIC, INCENTIVISED LEARNING PLATFORM
Managing the Department for Education's Junior ISA scheme for looked after children since 2012 (and the equivalent Child Trust Fund scheme since 2017), The Share Foundation charity has supported over 165,000 young people with starter capital accounts (Junior ISAs or Child Trust Funds) including providing access to financial literacy and life skills, which includes accessing relevant funds. Having previously delivered various successful projects for them, The Share Foundation asked our web design agency to design and develop a completely new bespoke web application (The Stepladder of Achievement) to enable young people to build online skills around literacy, numeracy and financial capability in six incentivised progressive steps.
Our brief involved the bringing together of many quite complicated elements.  We needed to deliver the secure integration of 3rd party training solutions and build in the ability to track progress and completion of actions supporting skills acquisition around literacy, numeracy, financial capability and the ability to plan and manage money. We also needed to be able to include the monitoring of mentoring activities, and to guarantee security for vulnerable young people.
To bring this concept to life, we knew that the key to the success of this project would be the ability to work in close collaboration with The Share Foundation.  Our web application design team invested time in understanding each of the parameters around how the end product needed to function and perform. This took time, as we worked closely with the Foundation's team to scope and develop each aspect and it was necessary for us to be "hands-on" in order to achieve the outcomes required and meet the expectations of The Share Foundation.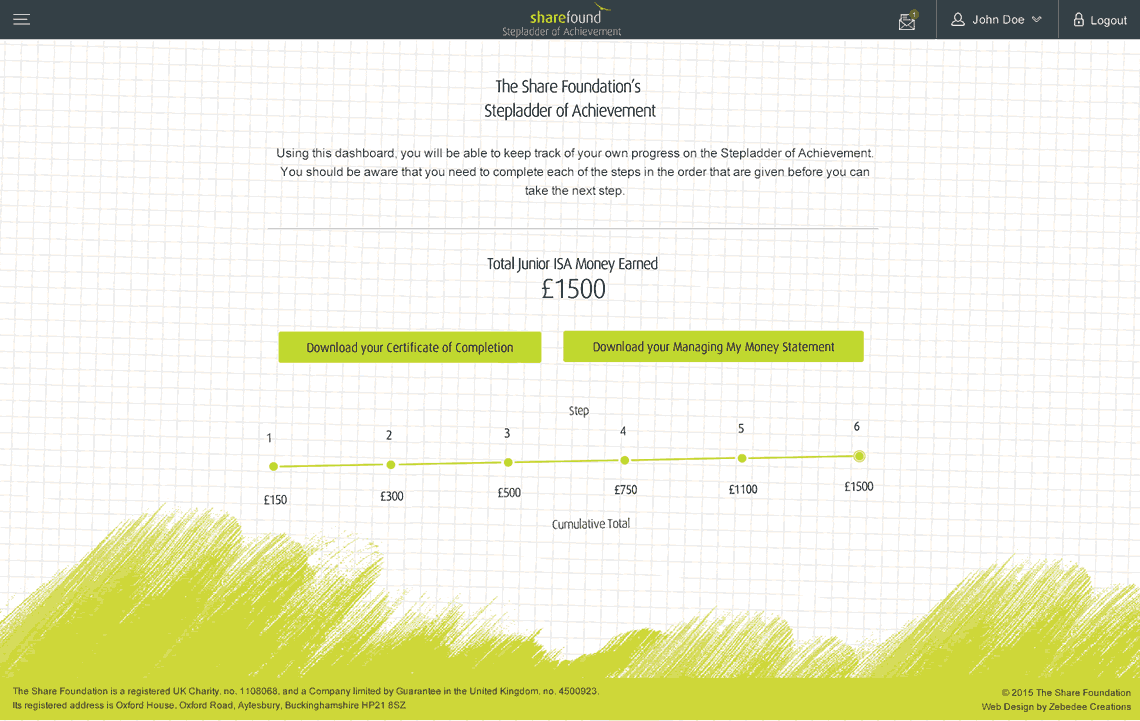 REDUCED OPERATIONAL OVERHEADS
Our collaborative working practice meant that we were involved at every stage of the project cycle. We supported the planning, consulting and conceptualising of the complete application from start to finish using wireframing, architecture mapping and the design of unique templates and UI elements – all required to respond perfectly on mobile and tablet devices as well as desktop. We devised a scalable web application to help support the approval and completion of the tests whilst reducing scope for error and administration expenditure. In order to maximise the use by the user, we delivered a fully responsive web application, on-brand for a younger target audience, incentivised with a financial reward at each step.
The completed web application now provides an online portal for user registration, monitoring and reporting for participating young people, local authorities and Share Found admin. Through a friendly, accessible user interface, this application will play a vital role in the capture, storage and verification for each candidate – tracking the procedure at key points from start to finish.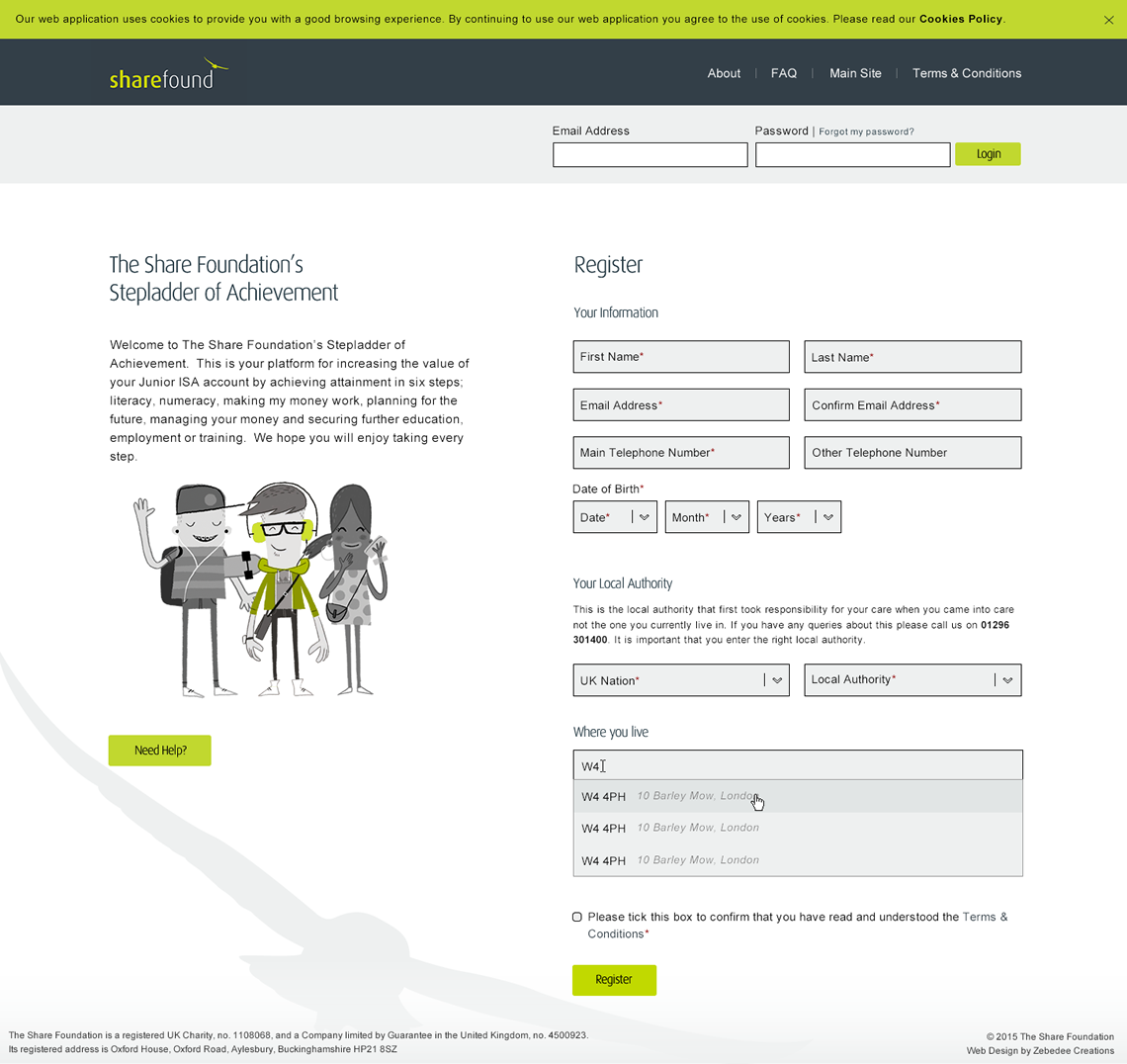 Other deliverables for this complex application included branded email notifications with dynamic information, end user login and registration password reset functionality and navigation elements for usability.  We added a welcome dashboard with dynamic display status with a progress bar indicating achievements and total benefit 'earned', plus numerous forms with automatic business logic to automatically e-mail notifications which were sent to Local Authorities, Share Foundation administrators and end users. We also provided integration between a set of databases on separate secure network locations and created a scalable platform to provide scope for extending the learning and evaluation services covered by the web application.  This was achieved by an extensive use of Web APIs which allowed a modular implementation across different platforms and technologies.
As we worked together, the journey informed the destination – the look and feel of the product reflected and strengthened The Share Foundation's brand identity.  The process took time, good communication and an understanding of both the challenges and the opportunities which a brief like this one presents.
Data Encryption
and Security
Last but not least, the project required enhanced levels of data protection for the users' personal information, which was achieved through the usage of strong encryption of data fields (and the database itself) as well as the implementation of secure data transfers between all application components using a Single Sign-On approach with JSON Web Tokens. In addition, other measures were put in place such a Web Application Firewall with IP rules to limit access, password protection of all reports and strong password encryption algorithms.
Over 450 young people aged 15-17 from 110 local authorities around the UK have engaged with this application since April 2020 and we are delighted to have been able to facilitate an enhanced experience for the use. Key to the success of this exciting project was inclusion of a certified project manager who carried out the day to day team management and provided comprehensive scope documentation, ensuring the web application design was implement as agreed, delivered on time and on budget.  Looking ahead, the potential for The Share Foundation going forward is significant – the product is now scalable and there is potential to clone this web application for use by different groups.
If you are looking to carry out a similar exercise, we can't emphasise enough how important it is, to recognise that you will need an agency which has proven experience in web application design and technical implementation.  And that agency needs to be willing to have a "hands-on" approach which will support every stage of the project.
Talk to our talented web design team to discuss your idea.