Creating the Ultimate
Luxury Brand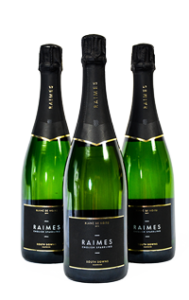 The Challenge
Designing a strong brand is part of most jobs we do. But this one was different. Raimes English Sparkling required a fresh perspective for their visual identity. The biggest challenge was to make their identity understood as "champagne", yet not look French or interpreted as wine.
This was the incarnation of a completely new identity, which had to be contemporary, seen as luxury and look English all in one!
To achieve a positioning alongside established high-class brands such as Nyetimber, Wiston and Chapel Down, Raimes have to occupy a brave territory and compete against these elite names in the mind of the customer.
English, Elegance
and Simplicity
Luckily, researching (ahem drinking) sparkling wine is one of our specialities. We got to grips with the body, finesse and branding objectives quite quickly!
Joking aside, we achieved a characteristically English authentic identity through the use of a sans serif font and designed our own typography for the logo – hand-drawn for complete uniqueness. This created a distinctive identity, but more importantly a comfortable fit next to established luxury sparkling wines.
Choosing the right colours was crucial: it sends the correct message and evokes an emotional response from the customer. The use of gold debossing in printed material reinforces the quality and exclusivity. We used neutrals and golds to give a feel of elegance, sophistication and timelessness.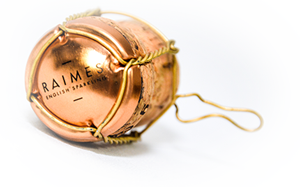 RAIMES are thrilled with the new logo and identity and promptly commissioned our agency to design their printed electronic letterheads, compliment slips and other branded assets as well as a new standout web design in 2021.
"...Everyone has seen the logo and new identity and it had an immediate LOVE IT response from everyone..."