Creating a new
law firm website design
A law firm website design
At Zebedee, we've had the privilege of working with Francis-George Solicitor Advocate for many years, creating and maintaining various versions of their website. As a provider of expert, cost-effective legal services in Witney, Swindon, and nationwide, Francis-George Solicitor Advocate recently entrusted us again to refresh their current website design and upgrade their content management system (CMS).
Enhancing a law firm's website design can have a significant positive impact on inbound marketing and online reputation so we set about refreshing their web design, improving usability, and optimising their CMS to improve and support their marketing goals.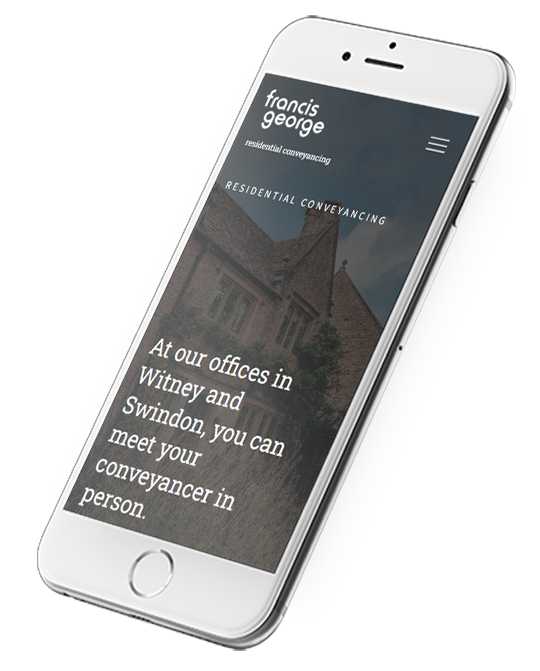 Streamlining
content management workflow
OUR STRATEGY
Managing, and how to choose the right content management system, can be a daunting task, especially when it's essential to the success of your website and therefore your business. As their existing website was managed across two separate CMS platforms, this made updating content a process that required external assistance and introduced scope for duplication or inconsistencies in their content. The law firm needed just one CMS for updating the website and a new design that could help capture more leads and reflect their professionalism and expertise.

BRAND IDENTITY
Zebedee embraced the challenge, advised on the benefits and risks of upgrading to one single CMS, and recommended one central repository for their team profiles – allowing a single point of content to be assigned across multiple sections of the website. Not only would this save time but also remove the scope for irregularities. Additionally, we helped bring their brand identity in line by establishing their brand guidelines, which not only helps ensure the website is on-brand and consistent but helps keep cohesive all their other visual brand touch points for their marketing and comms.
A win-win outcome
for a law firm website design
INCREASED ENGAGEMENT
The final website design has enhanced user experience, and by upgrading their content management system, we enabled their team to easily update their website directly, saving time and improving workflow. With Zebedee's help, this trusted law firm now has a website that is not only on-brand but is also much easier to manage and update, driving a steady flow of leads and enquiries into the business.
The result? A win-win result for both their team and marketing goals.
It's always great working with our website designers Zebedee Creations. Karen and her team are extremely professional, friendly and innovative. I cannot recommend them enough!