107% increase
in goal completions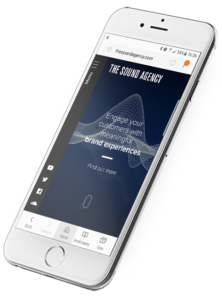 Brand messaging that resonates
Our approach to web design has transformed The Sound Agency's digital brand identity by bringing customer-centric messaging to the forefront of their website. By focusing on the underlying value proposition of The Sound Agency Web Design, we now get inside the mind of their audience within a split second and that means that visitors will spend longer on the site.
By using video and simplified navigation, we've eliminated the need for the user to have think too much. The streamlined design, with its strong visual presence, is now easy to manage and provides a consistent aesthetic feel across all devices.
In addition, our use of easy-to-digest content has, within a matter of weeks, resulted in clearly measurable and positive impact.
+95%
Increase in organic search
+107%
Increase in goal completions
+77%
Increase in traffic from Google
Enhanced UX
We used modular overlapping cards with subtle transitions to create a more unique and engaging design, helping The Sound Agency's business stand out in a crowded marketing place. Using cards in this web design creates an improved user experience as the simplicity, organisation and flexibility created by the cards, combined with the use of imagery, draws the user's eye quickly and effectively. The cards produce a streamlined simple look which works well on both desktop and mobile devices.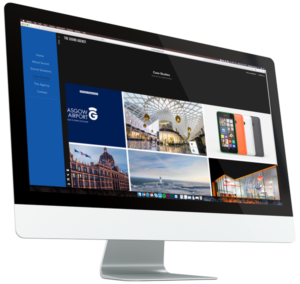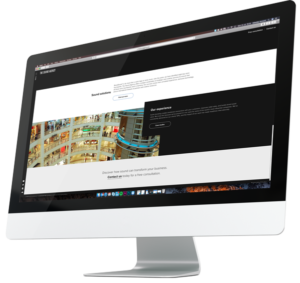 Better control
The Sound Agency can now, quickly and easily, mix and match parts of a web page and assemble it with as many rows and variations as required, without having to wait for one of our agency's web designers to do this for them. They can do it themselves in WordPress within in minutes, choosing background colour and alignment too.
By moving our strategy for design and management away from using fixed website templates and instead using an alternative model which incorporates the design and organisation of stand alone pieces of content, it's now possible for a page to have many combinations of layouts which are both practical and functional. And it gives WordPress editors much greater control.
We've made it easier to manage the website in ways that are beneficial from all perspectives, including from administrative, visual and business points of view. It's a marketer's dream – and a sound result.
...We are thrilled with our new website, it combines dynamic modern design with all the flexibility we needed. It was a joy working with Zebedee, who have been trusted partners for many years now...